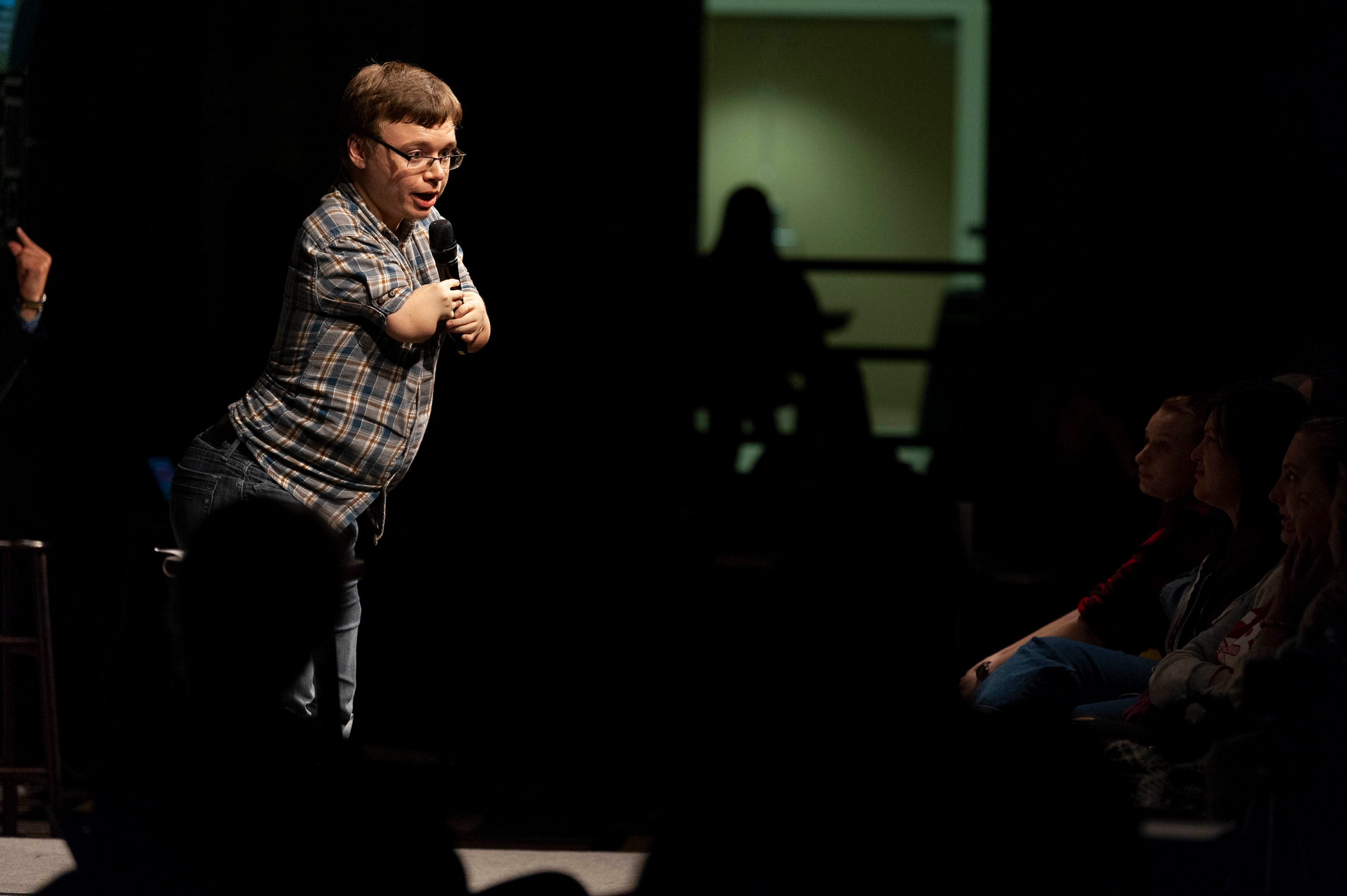 Andrew Tubbs performing stand-up comedy at the 2019 Symposium, Misfitting: Disability Broadly Considered
Opportunity to explore an important topic in the arts & humanities
The Obermann Arts & Humanities Symposium is an opportunity for UI scholars to explore an important topic using the lens of the arts and humanities. Co-directors invite national and international speakers who provide an interdisciplinary response to the theme, and also highlight the work of UI and local experts. The symposium often includes an arts component, as well as opportunities to share pedagogical approaches.
Recent symposia have explored the role of the humanities in understanding and communicating the new age known as the Anthropocene, celebrating and forming a cohesive vision for the study of Latinos in the Midwest, and an examination of Don Quixote as one of literature's most famous exemplars of parody and plagiarism.
This is an award of up to $15,000, including significant staff support. Proposals for the 24–25 Arts & Humanities Symposium are due October 25, 2023. Read more and apply.
2023–24 Obermann Arts & Humanities Symposium: 
Sports, Power, and Resistance: Legacies and Futures
September 21–23, 2023
How can the history of activism in sports help us understand the dynamics shaping conflicts today? How might labor relations in sport be imagined differently? How does the structure of sporting entertainment provide opportunities and obstacles to activism, and how can activists navigate these challenges?
As fans flock to sports arenas to cheer for their favorite teams, these spaces are simultaneously important societal battlegrounds. From acts of political protest by players to legislative debates about who can compete on school teams, athletics are at the center of today's culture wars. The Fall 2023 Obermann Arts and Humanities Symposium "Sports, Power, and Resistance: Legacies and Futures" featured leading scholars of history, sociology, cinema and media studies, rhetoric, and cultural studies discussing the past, present, and future of sports as a political force.