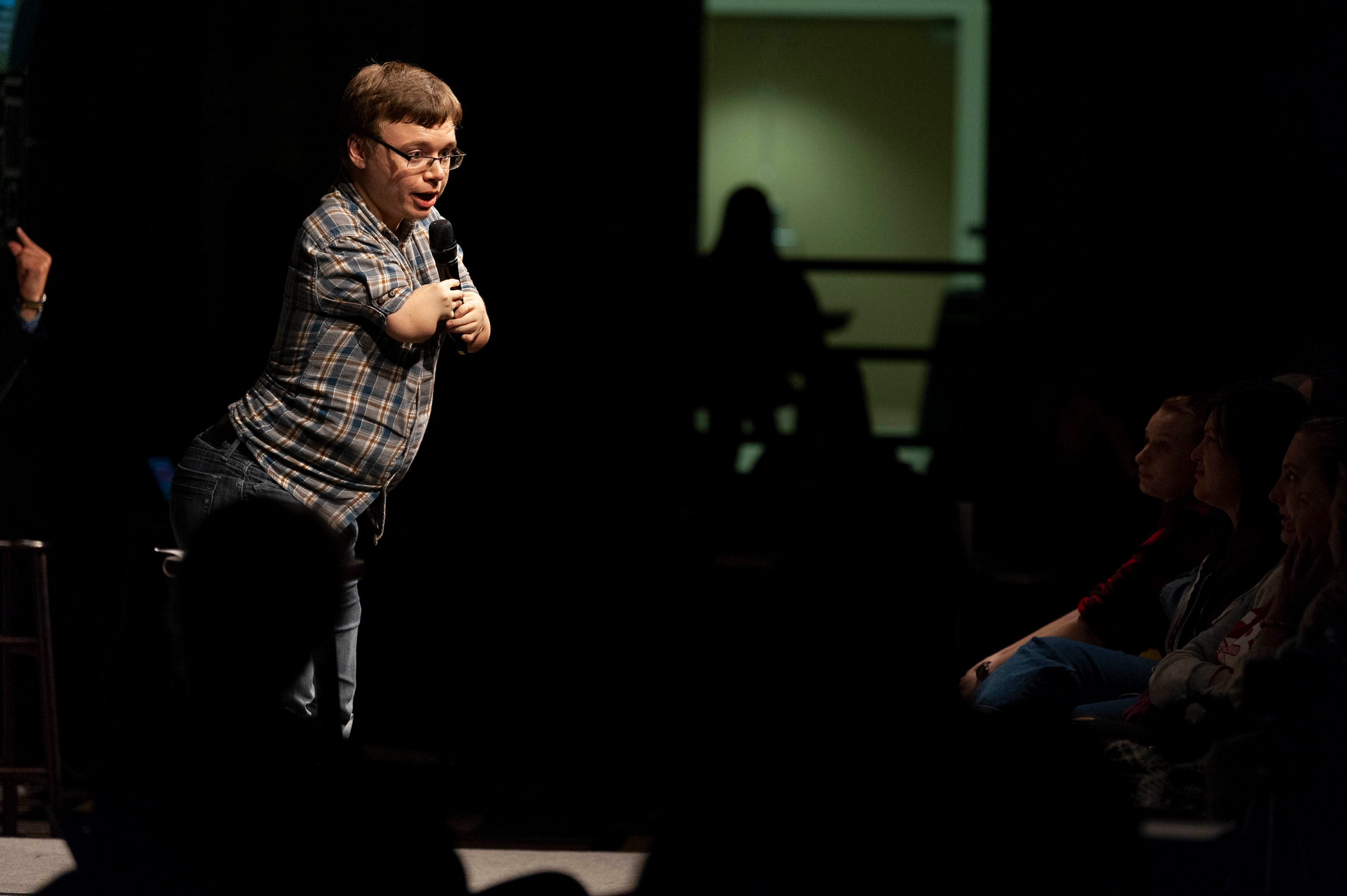 Andrew Tubbs performing stand-up comedy at the 2019 Symposium, Misfitting: Disability Broadly Considered

Beginning in 2023–24, this program will become the Arts & Humanities Symposium, with an award of up to $15,000, including significant staff support. Proposals for the inaugural 2023–24 Arts & Humanities Symposium are due October 26, 2022. Read more and apply.
Opportunity to explore an important topic in the humanities
The Obermann Humanities Symposium is an opportunity for UI scholars to explore an important topic using the lens of the humanities. Co-directors invite national and international speakers who provide an interdisciplinary response to the theme, and also highlight the work of UI and local experts. The symposium often includes an arts component, as well as opportunities to share pedagogical approaches.
Recent symposia have explored the role of the humanities in understanding and communicating the new age known as the Anthropocene, celebrating and forming a cohesive vision for the study of Latinos in the Midwest, and an examination of Don Quixote as one of literature's most famous exemplars of parody and plagiarism.
2023 Obermann Humanities Symposium
Frequências: Contemporary Afro-Brazilian Cinema & the Black Diaspora
From March 30 through April 1, 2023, "Frequências: Contemporary Afro-Brazilian Cinema & the Black Diaspora" will feature filmmakers, translators, and film scholars from the Afro-Brazilian diaspora. Organized by Christopher Harris (Cinematic Arts) with partnership from Cristiane Lira (University of Georgia) and Brazilian filmmaker Janaína Oliveira, the symposium will feature the emerging wave of young Afro-Brazilian filmmakers, curators, programmers, and scholars whose art and scholarship have already had an impact on the international cinema.
Panel discussions and keynotes will take place at the Stanley Museum of Art, and some screenings will be at Iowa City FilmScene. Harris says the events "are aimed at the generation of new knowledge regarding the central question of how Black identity is figured in the new Afro-Brazilian cinema and how that resonates with Black cinema globally."