Wednesday, February 3, 2021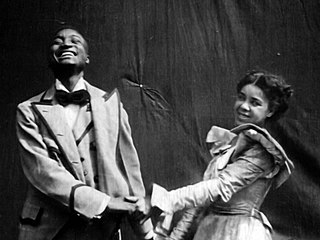 This spring semester, the Department of Cinematic Arts is hosting an online screening series, Black Lives on Screen, featuring the work of a diverse range of acclaimed African American and Black filmmakers, artists, and scholars. Intended to promote and celebrate the rich history and future of Black cinematic expression, the events will give UI classes, as well as individual students, staff, and faculty the opportunity to experience films ranging from the birth of cinema to the most recent documentaries, experimental shorts to mainstream blockbusters, and classic to marginalized or lost films. 
Cinema's profound role
"The idea for the series emerged organically from the department's commitment to transforming our 'Statement of Solidarity,' written over the summer in support of the Black Lives Matter movement, into action-based initiatives to combat racism through education," says Paula Amad, Director of Graduate Studies in the Department of Cinematic Arts. "As a department defined by the study and creation of film—an art form which we all know plays a profound role in reproducing as well as challenging racism—we felt a specific duty to focus our energies this year on providing a platform for leading artistic and scholarly voices in Black cinema."
She notes that Cinematic Arts established the Diverse Screens initiative last year with the goal of mobilizing cinema to make positive change in society. The new Black Lives on Screen series is a more urgent response and takes into consideration the ways in which cameras—particularly phone cameras documenting the deaths of George Floyd and other Black Americans—have played a key role in helping the country as a whole witness police brutality. "Moving images are intertwined traumatically with the production and memory of those violent events," says Amad.  The series is also a response to the way that the pandemic has closed theaters as a communal space for sharing art and ideas.
Diverse Screens a multi-year initiative
The Black Lives on Screen series is the inaugural, semester-long event of the Department's multi-year Diverse Screens initiative, a cornerstone of the unit's reinvigorated commitment to Diversity, Equity, and Inclusion as articulated in its Strategic Plan. The intention is to broaden the scope to Black cinema in a diasporic and transnational context with events that will include, for example, the Obermann Humanities Symposium on contemporary Afro-Brazilian cinema planned for 2022–23.
By shining a light on Black filmmakers' own multifaceted cinematic visions, voices, and stories, the series aims to expand the University of Iowa's cinematic horizons and broaden expectations of cinema as a key form of Black art and social transformation. Planned as an outward-facing event for the entire University of Iowa community, Cinematic Arts is collaborating with multiple units, faculty and students across campus, and FilmScene. The Obermann Center is especially pleased to co-sponsor and co-host the the culminating event of the series, the world premiere of UI Writers' Workshop professor Tracie Morris's poetic-cinematic performance "Black Spring."  
 From Black Panther to the first known kiss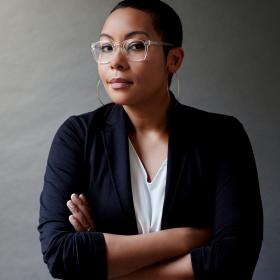 The films in the series have been curated by UI faculty and graduate students, as well as by special guest artists and scholars. A few highlights include the acclaimed experimental films of our colleague and Obermann Advisory Board member Christopher Harris (Cinematic Arts, CLAS); lectures by two of the leading scholars of African American cinema, Allyson Field (University of Chicago) and Racquel Gates (College of Staten Island, CUNY; pictured right); experimental films recently curated by for the Whitney Museum of American Art in New York City; and a program of African American home movies curated by preservationist Ina Archer from the Smithsonian's National Museum of African American History and Culture.
"We have strived to include something for everyone, from film history buffs and superhero fans to art house cinephiles," says Amad. "As a film historian with a particular interest in cinema's marginalia, I am obviously eager to learn from Professor Allyson Field's lecture on the rediscovered 1898 film Something Good—Negro Kiss. I'm also super interested in a program that only recently came together in which African American home movies from the National Museum of African American History and Culture will be discussed by Associate Professor Racquel Gates and curator-filmmaker Ina Archer."
Mark your calendars
The Black Lives on Screen series is free and open to all UI students, staff, and faculty and will occur every Thursday night from 7:00 p.m. to 10:00 p.m., beginning February 18, 2021. Virtual film screenings followed by a live-streamed, post-screening discussion with invited special guests will all occur online. Due to film licensing restrictions, the events will require a UI login. 
There will be additional talks occurring live-streamed (or pre-recorded) on Friday afternoons at 3.30 p.m. Cinematic Arts especially hopes that those teaching classes will encourage their students to attend and will pair this rich collection of films and events with their curricula.  
Note that more detailed information will be added to the Back Lives on Screen website as the series goes on, including a "Learn More" section that will allow people to delve more deeply into the films and presenters. A printable schedule is also available. 
About the image: The still above is from Something Good—Negro Kiss,  a short film from 1898 that was added to the American National Film Registry in 2018. It is believed to be the earliest onscreen kiss involving African Americans and is known for departing from the prevalent and purely stereotypical presentation of racist caricature in popular culture at the time it was made.