In the summer of 2014, it wasn't uncommon to find two faculty members padding around the Obermann Center in bare feet as they dashed from their upstairs offices to the downstairs library to watch movies. While it appeared to be a scholarly form of summer camp, John Rapson (School of Music) and Paul Kalina (Theatre) were deep in research as they broke down how music and movement interacted in old movies that emphasized physical comedy, such as those of Buster Keaton and Jacques Tati. They were working toward a production called Crescendo, a commentary on contemporary education that premiered in October 2014.
Crescendo was one of three Obermann-supported productions of which John Rapson was a primary author. The others, Hot Tamale Louie (2017) and Esteban: Children of the Sun (2021), share similar intentions of investigating parts of contemporary culture through the lenses of music, theater, historical research, and improvisation. They, like their maker, uplift community and interdisciplinary collaboration. 
Nearly three decades of local jazz making
Ira "John" Rapson was on the faculty of the UI School of Music for 26 years. He established both the BA and MA degree programs in Jazz, conducted the the Johnson County Landmark (JCL) jazz orchestra, and played intimate concerts at local establishments, especially The Motley Cow and Goosetown Cafe. He sought out projects that moved beyond musical, artistic, and disciplinary boundaries. Crescendo, for instance, combined the centuries-old tradition of masks and commedia dell'arte with contemporary clowning, improvisational jazz, and research into K12 education. It was also inclusive—another of Rapson's signature values—with visiting artists from Italy joining more than 50 student actors and musicians.
Rapson conducted a live jazz ensemble during the UI Theatre's mainstage performances of Crescendo. It was not a set score; rather, the musicians improvised with with the actors in the moment. "One thing that happens with collaborative projects," Rapson told us for an article about Crescendo, "is you have to figure out who goes first. In this case, it was the mask-making followed by the composition of the music. But in a good collaboration, you take turns, and now we are pounding this out in rehearsal, still trying to decide whether the action generates the music, or the action reflects the music." The effect was that no two performances were the same: both the actors and the orchestra had leeway to shift, react, and follow tangents. 
A trombonist, pianist, and composer, Rapson wrote compositions for a wide range of ensembles and recorded 27 albums, thirteen of which feature his compositions. He worked on both coasts, recording with the likes of Bill Frisell and Doc Cheatham. He sought out projects that had an element of the unexpected. In 1995, he composed Sound Luminesce, a jazz suite commissioned by AT&T that united musicians in Iowa and Japan via fiber optic technology in the first ever trans-pacific "live" performance.  
Hearing a story unfold
More recently, Rapson was inspired by a long-form article in The New Yorker by writer Kathryn Schulz about Zarif Khan, an Afghani man who took a circuitous route to Wyoming early in the 20th century. Rapson read the article in 2016 in the midst of undergoing chemotherapy and radiation for cancer. He told a friend that when he encountered the article, he "heard the story" and all the musical eras it encompassed. The ensuing work, Hot Tamale Louie, became Rapson's performed gift to celebrate the opening of the new Voxman Music Building, something he'd been invited to do by previous School of Music director David Gier.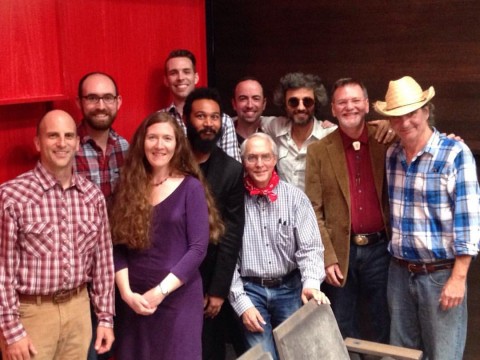 As Rapson followed "Louie" through his immigrant's journey of earning citizenship only to have it stripped for "being a member of the yellow race," he recognized a story of immigration that echoed the contemporary conversation about what it means to be an American and who can enter or stay in this country. The production included several of Rapson's former jazz students alongside decidedly non-jazz musicians like local folk artist Dave Moore, Celtic fiddler Tara McGovern, and Nielo Gaglione, a mandole player who had recently moved to Iowa City from France. (In this 2017 Obermann Conversation, Moore and Gaglione join Rapson in describing the making of Hot Tamale Louie.)
Hot Tamale Louie was relentlessly uncategorizable. In Rapson's words, it was "a genre-bending tale with lilting Western ballads, gentle Mexican waltzes, folk songs and melodies from the East, evocative tone poems and raucous ragtime melded together by jazz." There were maps and historic images running on a screen behind the performers, and periodically the music paused for Kalina to take center stage in a ten-gallon cowboy hat and give a brief lesson about U.S. immigration policy or tamales.
Tirelessly elevating others
The rollicking, joyful performance was shared publicly only a few times, including at Iowa City's Jazz Fest and in Wyoming, during a week-long trip that the ensemble took to give a series of performances in colleges and high school gymnasiums. McGovern said they were delighted to meet one of Zarif Khan's sons and several grandsons, who traveled with them between towns. Kalina recalls that "John took an opportunity to center community leaders wherever we performed, having them do the monologues"—which was "pure John," says McGovern. "He had an unusually respectful fascination with people's individual stories; he wanted to know people's stories and elevate them. He tirelessly elevated all of the musicians around him."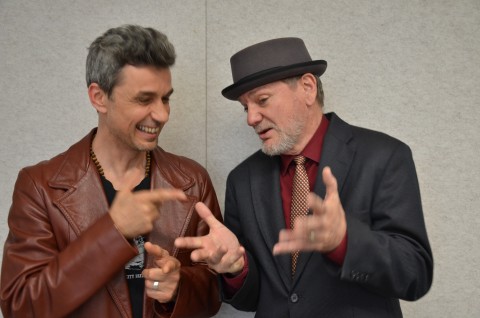 The ensemble has continued to work together, both in smaller offshoots—McGovern and Gaglione performing as Kerak; Rapson, Gaglione, Ryan Smith, and Justin Leduc performing as Mektoub—and as a group (without Rapson) on another large-scale piece that shines light on a little-known historical figure. Esteban: Children of the Sun grew from John learning about the ill-fated 1527 Pánfilo de Narváez expedition to Florida. Only four of the expedition's members survived the shipwreck and subsequent hardships, including Álvar Núñez Cabeza de Vaca, whose written account of their tribulations along what is now the U.S. Gulf Coast and Southwest, is familiar to some. Less known, however, was Moroccan-born enslaved person Esteban de Dorantes, likely the first African to be forcibly taken to the New World.
In 2019, John reached out to Amber Brian, a faculty member in Spanish and Portuguese and a scholar of that period, and asked her to join him in leading an Obermann Working Group that would investigate aspects of the Cabeza de Vaca narrative in order to build a musical interpretation of less-known characters and experiences. In his application for the group, John wrote that his musical research for the project was focused on "investigating the influences of Moors, Sephardic Jews, Romany Gypsies, the Spanish renaissance, flamenco, and New World folk traditions. [I intend] to assemble a large ensemble of UI colleagues and professional musicians to record the work in a studio method similar to the production of earlier albums where improvisations were turned into compositions. The mix will include 'classical' and 'popular' musicians working alongside each other."
"It was a wonderful experience," says Brian. "I'd not been part of a creative and collaborative process like that before. John established a free-flowing dynamic, in which each member of the group was given permission to offer thoughts, insights, and perspectives as he worked to develop the right entry points into the story. It was an honor to be part of those stimulating sessions, and I'm very much looking forward to hearing the results of his efforts."
Continuing the work
Esteban was recorded a few months before John's passing, with the ensemble now officially known as the Mektoub Arkestra. They were joined by local Blues artist Kevin B.F. Burt, who wrote several original compositions, and spoken word poet Caleb Rainey. Along with the Miguel Espinoza Flamenco Fusion from Colorado—which also composed pieces and worked remotely with John and the team—the ensemble will perform Esteban at The Englert Theatre this October 3.
The musicians, joined in art and deep friendship, intend to continue John's work of elevating local musicians, no matter their training or genre, who are telling stories worthy of greater attention. To that end, there is a nonprofit that John helped to start and to which his family has asked any memorial donations be made; Hot Tamale Louie Iowa City (HTLIC Media) receives checks via Larew Law Office, 504 East Bloomington Street, Iowa City, IA 52245, or online at https://www.gofundme.com/f/in-memory-of-john-rapson.   
The spirit of this wide-ranging and immensely generous creative force was recognized in 2019 with the UI's Outstanding Outreach and Public Engagement Award, which honors faculty who have engaged in activities that bring the university to broader communities in significant and sustained ways. One of Rapson's friends and neighbors, Susan Shullaw, echoes many people's feelings about John when she wrote this week, "If this were a just world, not only would he still be among us, he'd have received a MacArthur genius grant years ago."