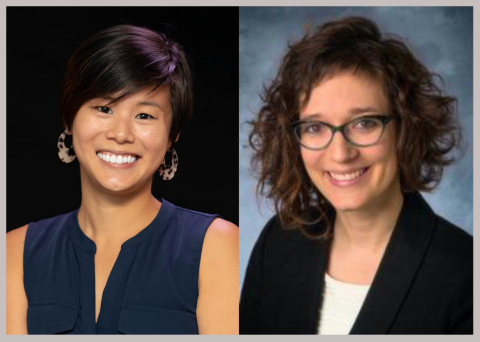 When the pandemic postponed Natalie Fixmer-Oraiz (Communication Studies and GWSS, University of Iowa) and Shui-yin Sharon Yam's (Writing, Rhetoric, and Digital Studies, University of Kentucky) Obermann residency for their Interdisciplinary Research Grant project last summer, they decided to postpone their work until they could meet in person. Though the Center remained closed to faculty this summer, the pair met in Indiana, halfway between their homes, and spent an intensive week together working on a book project. 
Exceeding the possible
Fixmer-Oraiz says that the two—who had never before worked together in person—"just clicked. We far exceeded what we even thought possible." New Grammars for Reproductive Justice traces the struggle among healthcare providers and reproductive justice advocates to invent vocabularies that account for the intersecting systems of oppressions and histories faced by poor women, people of color, queer, trans and non-binary people. Drawing from current research in transgender studies, feminist studies, and rhetoric, this project makes use of the reproductive justice framework developed by women of color to analyze ongoing debates over language use and inclusivity within reproductive health care and advocacy.
During their time together, the pair analyzed primary data and synthesized existing research they had collected prior to the residency, including a rich collection of interviews. They figured out the book's structural organization, which helped them to clarify and streamline content. They also completed a full draft of the body chapter on reproductive justice birth workers and queer and trans reproduction and drafted half of the introductory chapter; both of these chapters will later be submitted to their press as sample chapters. Additionally, they made plans to adapt the body chapter into a journal article and outlined a work schedule for the remaining three chapters. It was work they'd intended to do at the Obermann Center over the course of two weeks, but with a clock ticking and kids at home, they expedited their timeline.
Wide range of responses
At the heart of the project are nearly 60 hours of interviews with stakeholders, including representatives from national reproductive rights and justice organizations, health service providers, and queer, trans, and/or non-binary parents. The two scholars hope their analysis of these conversations, paired with other qualitative and quantitative research, will show the wide range of affective responses, ethical rationales, political arguments, and lived experiences that stakeholders mobilize to make sense of the tension between gender specificity and neutrality in language. "Ultimately," they write, "New Grammars for Reproductive Justice queries the possibilities for crafting better language in the context of reproductive health care and politics—language that is more inclusive, accurate, and affirming for all those who birth and/or parent."